Alkota Cleaning Systems
With over 5 decades of experience, Alkota remains at the forefront of the cleaning industry, leading the way through design, building, and improving cleaning systems. They use the best quality, durable materials, and innovative technology to ensure the best products on the market.
Alkota is a South Dakota based cleaning system provider, offering pressure washers, steam cleaners, and heaters. They take pride in the excellence of their craftsmanship, ensuring the best quality machines possible. With a full line of pressure washers, detergents, parts washers and more, you are bound to have everything you need, and the highest quality home-town service to boot!
Founded in a rural South Dakota town in 1964, Alcester South Dakota still holds the Alkota name. The name Alkota pays homage to the town they still call home: Al- for Alcester and -kota for South Dakota. As a premium West-River provider, Grimm's Pump and Industrial supply offers Alkota's full line of power washers (cold or hot water) and top of the line pressure washers.
If you can't find exactly what you're looking for, Alkota goes above and beyond great customer service and can have their engineering staff put together a custom pressure washer to take care of all your needs.
Top Products Include:
Portable Cold Water Pressure Washer
Steam Cleaner
Hot Water Pressure Washers
Pressure Washer Trailers
Gas powered hot water heaters for pressure washer
Kerosene, Diesel, industrial space heaters
Grimm's can also provide fast and friendly maintenance and repair on pressure washing systems.
Contact Grimm's Pump and Industrial Supply with all your pressure washer needs.
605-343-3629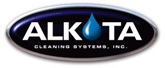 Click Here to see all the Alkota pressure washers and products available.